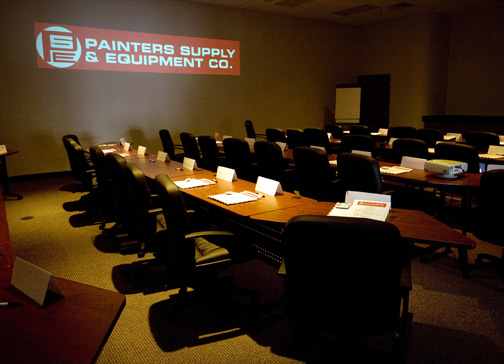 The 3,000 square foot Learning Center, located within our distribution center in Taylor, Michigan, has been developed to provide information; instruction and hands-on experience for a variety of automotive and industrial refinish systems and equipment from major global suppliers. Customized training on the latest products, tools, and processes is oriented toward the needs of Painters Supply & Equipment Co. customers and also provide a unique internal training opportunity for Painters Supply & Equipment Co. representatives.
Painters Supply & Equipment Co. now becomes one of the few PBE jobbers in the United States with a dedicated training facility this progressive and extensive in scope. The expense and effort invested demonstrates our significant commitment to ongoing industry improvement. Our facility is completely outfitted with audio/visual equipment, features ergonomic seating, and boasts a self-contained technical demonstration room – complete with refinish products, safety equipment, and other refinish-related tools.
 MVP Business Solutions 
MVP develops and delivers the most comprehensive programs for Painters Supply & Equipment Co. and PPG Collision Repair Customers presented by the best resources in the industry. Our mission is to provide our collision repair business partners with training and business development services directed at interdependent success.
Click here for more information.
Training Video Channels
Training Schedule
December 9, 2016 6-10PM – PSE Learning Center
I-Car SPS10 - Replacement of Steel & Unitized Structure
December 20, 2016 6-10PM – PSE Learning Center
I-Car SSS01 – Structural Straightening Steel
 Sign Up Today!